Bulk Blown Wood Pellets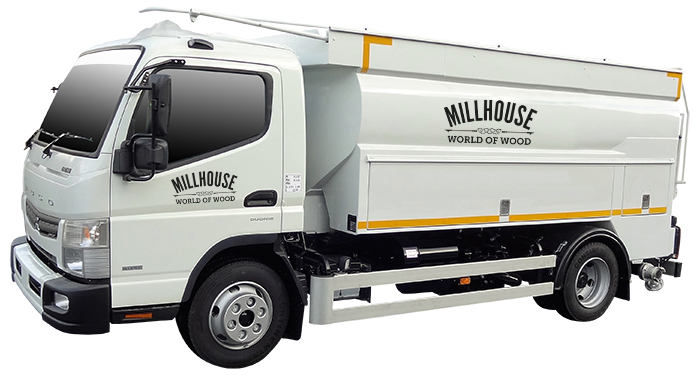 Bulk Blown Deliveries ~ Premium Grade 6mm Wood Pellets
Looking for a bulk blown delivery, then look no further! We offer a fabulous service to our customers and have a customised vehicle to get to even the remotest of areas. Our vehicle is small scale and we specialise in bulk blown deliveries throughout Yorkshire and Lancashire, if you are outside of the area please contact the office as we also use contractors and are extremely confident that we are competitive on price.
Here at Millhouse we value all of our customers and aim to provide quality products with quality service from the moment you place your order up to the time when it is delivered. Our custom built tanker is small scale and even if you have a large hopper we can make multiple drops spreading out the cost.
Pellet Tanker Specification
6m Long x 2.48m Wide x 2.5 High
We have a complete Dust Extraction Unit to circulate the air and remove the fines (Socket required close to the hopper to plug in).
The vehicle is not a tipper therefore we do not have issues with overhead cables or unlevel ground.
The built in Weighing System complete with display and printer produces a ticket that tell's us exactly how much weight has been delivered, (therefore you only pay for what you recieve).
If you are considering having a hopper installed but are worried about the access we are happy to visit the property and complete a site survey free of charge to ensure our vehicle can reach you, just contact the office for further information.
All of our pellets are ENplusA1 certified by their producer and are registered on the Biomass Suppliers List, we complete quarterley reporting to meet with audit requirements which entitles customers claiming the government subsidy to qualify for their RHI.
We are on the BSL list.
For advice on which BSL number you require, please call the office on 01422 646839 or 01422 823929.
Free Deliveries to BD, HX, HD, HG, LS,M, OL, WF, YO